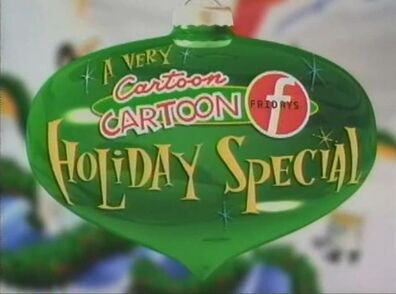 A Very Cartoon Cartoon Fridays Holiday Special is a special holiday edition of Cartoon Cartoon Fridays. Hosted by I.M. Weasel, the Cartoon Cartoon characters are Doing Famous scenes from Classic Christmas specials.
The special aired on December 22, 2000 from 7:00pm to 11:00pm, July 20, 2001 from 7:00pm to 11:00pm (as Christmas in July) and on December 21, 2001 (Again) from 8:00pm to 12:00am.
A Christmas Carol: Eustace is seen portraying Ebeneezer Scrooge with Ed as Tiny Tim At The Ending Scene.
Rudolph the Red-Nosed Reindeer: The Mayor of Tonwsville is seen playing Sam the Snowman singing "Pewter and Bronze" (A Parody of "Silver and Gold"). But He Complains To Chicken & His Friends having trouble moving around in his costume. Later, Johnny shows an Impression Of Hermey the Elf To Dexter & Chicken.
A Charlie Brown Christmas: A Segment of the closing scene with Blossom, Johnny, Bubbles, Courage, Sheep, Ed, Edd, Eddy, and Chicken look up to the sky while Whistling "Hark! The Herald Angels Sing". Later, Buttercup, Ed, Sheep, Courage, Chicken, Johnny, & Dexter are seen mimicking The Dancing Scene.
How The Grinch Stole Christmas!: The Mayor, Dexter, Chicken, Ed, Johnny, Buttercup & Ms. Bellum sing a parody of "Welcome Christmas" around a Christmas tree. Also In A Bumper Of The .com Pick, Courage is briefly seen an antler tied to his head like Max.
A Christmas Story: Dexter dares Johnny "to the 86th power" to stick his tounge on the monitors, But Johnny Thinks His Tounge Won't Stick To The Monitors, That's Because He Indeed Got stuck. So They Walk Off And Chicken Saying But The Bell Rang As He Cries For Help. At The end of the special, Chicken saying that he never got the BB gun he wanted, with everyone Says "You'll shoot your eye out!".